OptumCare Opens in Huntington Beach
On Tuesday, August 2nd, OptumCare Medical Group held its Grand Opening in Huntington Beach. This medical office marks the 20th location for the company, its first in the city of Huntington Beach. With offices from Long Beach all the way to San Diego County, OptumCare Medical Group can provide healthcare services to even more people. Attendees at the Grand Opening and Ribbon Cutting Ceremony included OptumCare staff, the Huntington Beach Chamber of Commerce and government official representatives.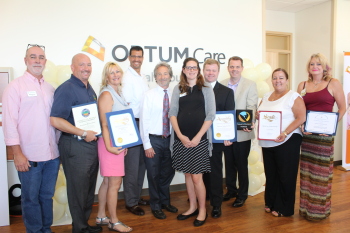 To view the OC Register article, click HERE.

---
The Robert Mayer Leadership Academy is Now Accepting Applications for 2016 -2017!

WHY JOIN?
Applicants chosen for the 2016-2017 program will have the unique opportunity to develop their potential for public responsibility. Each of the nine workshops are designed to inform, motivate and challenge the participant and give you a glimpse behind the scenes of your community. As the workshop locations change to enhance and compliment the following dynamic topics, so do the presenters, who represent the community.

The topics include:
• Orientation/Team Building & Leadership
• Pala Mesa Retreat
• Public Safety/Justice
• Health Care/Wellness
• City/County Government & Infrastructure
• Education
• Environment/Economic Conference
• Volunteering/Community Involvement & Social Services
• Graduation Ceremony

The Leadership Academy does not advocate programs or particular solutions. It seeks, instead, to present the views of a wide spectrum of experts in the selected areas of discussion.

WHAT WE DO
The Leadership Academy provides Huntington Beach professionals with a unique opportunity to connect with their community and to better understand the components of its government, public safety, business community, economic climate, social uniqueness, education and health care system.

Graduates have found the program to be invaluable to enhancing their careers and formulating lasting relationships with fellow classmates.

APPLY TODAY for the Class of 2016-2017! For more information, contact Joyce Riddell at (714) 262-0808. To download an application, CLICK HERE.
---


Welcome New President and CEO James O'Callaghan!

Being able to work with a tremendously diverse business group and in such a wonderful community is what drew me to the Huntington Beach Chamber of Commerce. Everyone I have met truly cares about their community and have been so warm and welcoming. There is an overwhelming pride of belonging, the likes of which I have never seen.

The coming months will bring opportunity to work together as a community whether it be building on the success of our current business community or attracting amazing companies to complement this outstanding City. Understanding and collaboration allows us all to better understand and meet the needs of the City of Huntington Beach.

I look forward to having an opportunity to meet with the vibrant civic and community organizations representing wide ranging focuses of our residents and businesses. Being a good partner has always been important to me throughout my career. While we may all represent different groups with varying objectives, we all benefit and excel when Huntington Beach succeeds.

The Huntington Beach Chamber of Commerce wants to ensure representation is afforded to all and not just those who are vocal. There are times when it is difficult to get away from the business at hand to attend committee meetings or advocate on behalf of an issue. In an effort to gather the most diverse level of feedback possible, we are going to bring the Chamber to you. Each month we will visit businesses (both member and non-member) in an effort to understand what keeps you up at night, what roadblocks you face, and what solutions you see.

As an organization we are positioned well today, but will not rest on our laurels and strive to be the community resource you want and need by your side. If you stop evolving, you stop improving and to this end we want your input. New to the Pier Review is our question of the month focusing on how we represent you. In each edition the question will change but the focus will remain on building a better organization. Please take the time to provide your views on what works, what doesn't, and what you want.

Our current Chair Weikko Wirta and Chair-elect Barbara Mason, along with the entire Board of Directors have done one of the most amazing jobs I have seen managing and owning this leadership transition. Over the past several months, Weikko and Barbara have taken on the responsibility of managing the day-to-day operations of the Chamber, on top of their already highly demanding actual jobs. It is this leadership which continues to distinguish the Huntington Beach Chamber as one of the best. I am not sure enough appreciation can be shown for what the two of you have done but on behalf of the Board, staff, and community, thank you!
---